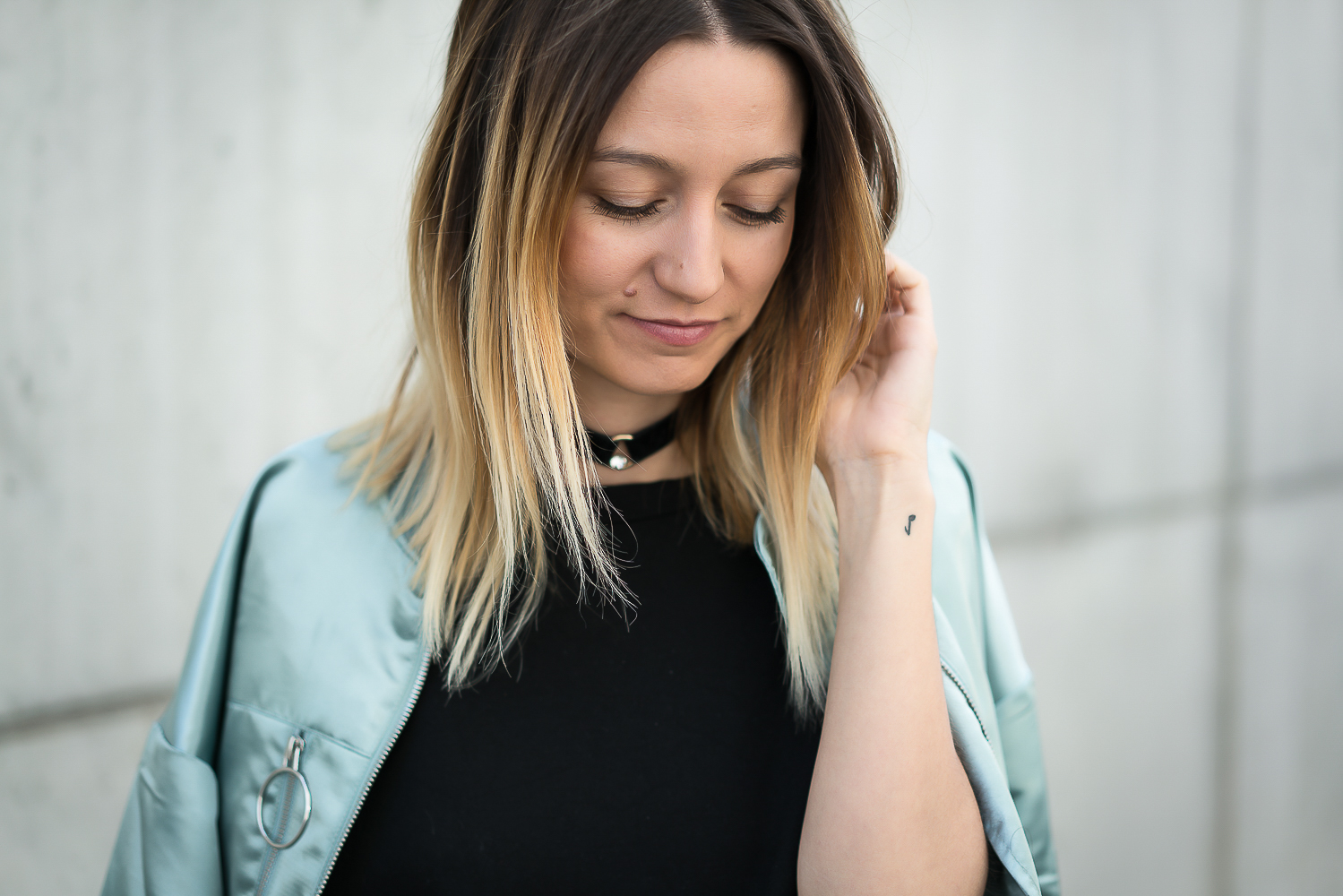 Samedi, j'ai rencontré Stéphanie, une excellente photographe avec qui j'ai fait un shooting. J'adore son style, la manière dont elle cadre ses photos, les lieux qu'elle choisit, les suggestions de poses qu'elle propose. Tout est cool avec elle et je suis hyper contente du résultat ! Nous avons fait deux séries avec deux tenues différentes, je publierai la suite cette semaine.
Sur ces photos, je porte le bomber satiné acheté à Helsinki lorsque nous y étions au mois de février. Je me réjouissais de pouvoir le mettre car j'adore sa couleur. Je pense que vous l'avez remarqué mais les teintes satinées/métallisées sont vraiment à la mode cette année, tout comme les collants résille. C'est tellement plus simple de s'habiller au printemps ou en été, un bomber, un long t-shirt, des collants ou un legging, des baskets et le tour est joué !
Sinon, je me réjouis trop de samedi, je pars à Milan et j'ai vraiment hâte de changer un peu d'air pour quelques jours. Il va faire gris toute la semaine ici alors vivement le départ. J'ai vu qu'il allait faire beau là-bas, donc à moiiii les tomates-mozzas, pizzas, glaces et tutti quanti. A très vite x
Saturday, I met Stéphanie, an amazing photographer with who I made a shooting. I love her style, the way she takes pictures, the places she choose, her suggestions for posing. Everything is cool with her and I'm so happy with the result. We made two series of two different outfits, I'll post the next one later this week.

On these pictures, I'm wearing a satin bomber bought in Helsinki when I was there in February. I really looked forward to wear it because I love its color. I think you have noticed but satin and metallic colors are so trendy this year, just like the Fishnet tights. It's so much more easier to dress in spring or in summer, a bomber, a long shirt, tights or legging, basket and that's it !
Right now I can't wait to be Saturday because I'm going to Milano and I'm really looking forward to change of scenery for a couple of days. Besides, it's going to be sunny so mozzarella, pizzas, ice-cream, I'll eat everything I'll see. See you soon x

Photos par Stéphanie son site | son instagram
_
Bomber MANGO
T-shirt (similaire) PULL&BEAR
Collants CALZEDONIA
Chaussures ADIDAS